HOW TO KNIT:
ONe-Color Flat Brioche
Deepen your knitting repertoire with the stretchy and stunning brioche stitch worked in a single color. It isn't as hard as you think! This traditional technique consists of slipped stitches, work 2-togethers and yarn overs to create a springy, double-sided fabric that is fully reversible. Learn how to work this deceptively simple stitch with this straight-forward method. Our step-by-step tutorial will teach you how to use one color of yarn to work flat brioche, opening up a world of possibilities in your knitting.
Flat Brioche stitch is worked as a two-row repeat. After working the setup rows, repeat the two rows as instructed below to create the stitch pattern. Definitions for abbreviations are given below.
Setting up for brioche stitch:
Setup Row 1 (RS): *knit 1, Yf-Sl1-YO; repeat from *
Setup Row 2 (WS): *Yf-Sl1-YO, BRK; repeat from *
Work the brioche stitch:
Brioche Row 1 (RS): *BRK, Yf-Sl1-YO; repeat from *
Brioche Row 2 (WS): *Yf-Sl1-YO, BRK; repeat from *
---
BRK – Brioche Knit: Knit the next stitch together with its corresponding YO from the previous row.
Yf-Sl1-YO – Yarn Forward, Slip 1, Yarn Over: Bring the working yarn under the needle to the front of the work, slip the next stitch purlwise, then bring the yarn over the needle to the back (creating a YO on top of the slipped stitch), in position to knit the following stitch. This slipped stitch/yarn over pair is considered one stitch.
---
Douro
Oversized Brioche Wrap
Light and lofty brioche stitch makes the ideal wrap or lap blanket. Douro explores the possibilities of traveling lines in brioche, wandering from symmetry to asymmetry and back to regular ribs. Worked from written instructions, this pattern is a good way to step up from basic brioche knitting.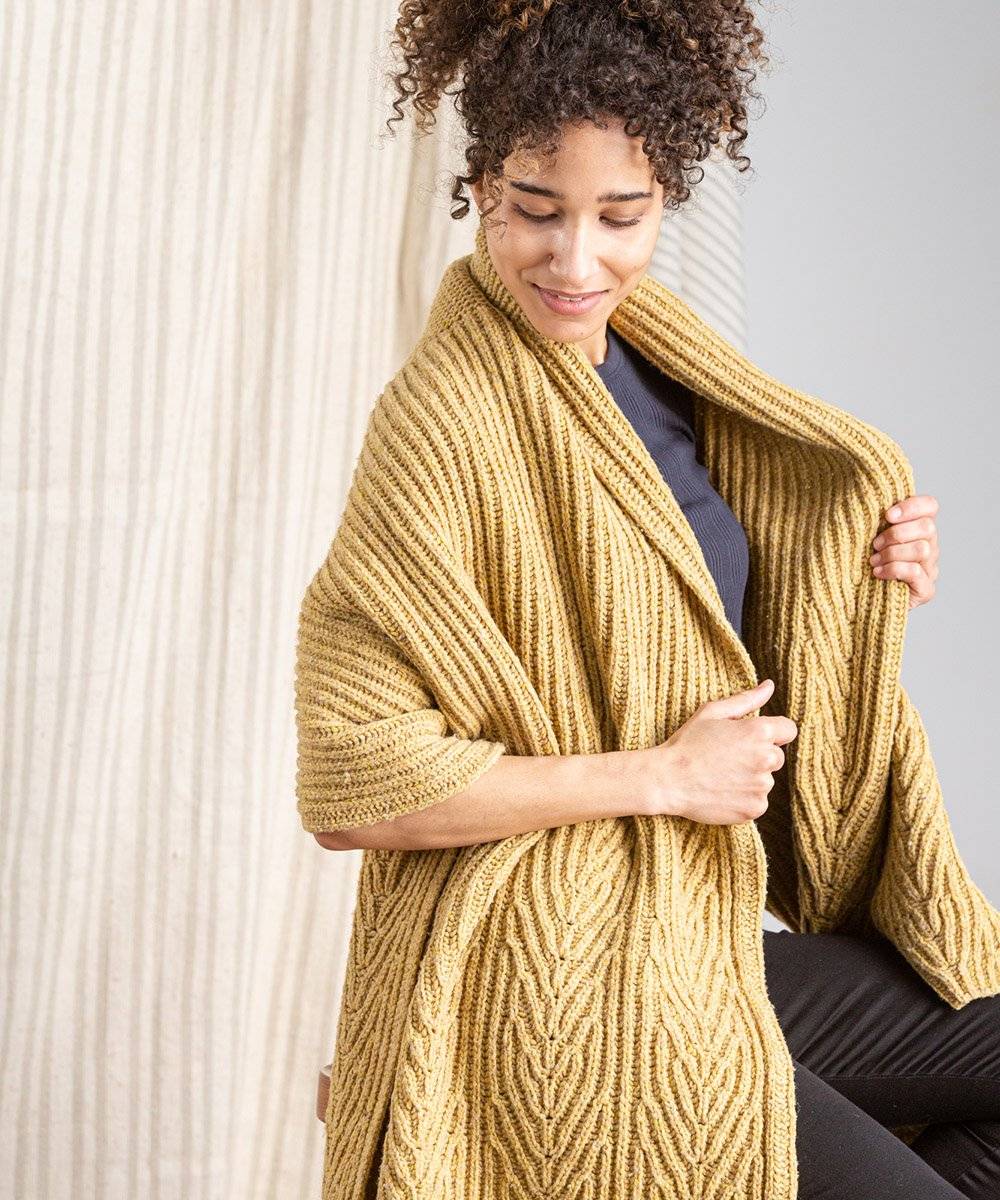 ARBOR
DK Weight
American Targhee Wool
Arbor is a classic DK weight yarn with timeless versatility. American Targhee wool is worsted spun into a round and springy 3-ply yarn, perfect for crisp stitch definition and wear-everywhere knits. Skein-dyed in a painterly palette of solid colors.
Featured colors in this tutorial:
Tincture is reminiscent of grassy olive oil, greener and more vivid than Klimt.
Share with us #BTintheWild