Auction Closed
Next Auction: Fall 2023 
What are samples?
For every pattern that we produce, we commission our sample knitters to create one or more finished items, often in multiple colors, sizes, and yarns. Samples are used for photography and for trunk shows at local yarn stores for customers to see and try on in person.
What is a sample sale?
Our sample sale is your chance to enjoy beautiful hand knitted Brooklyn Tweed designs without having to knit them yourself! Give a gorgeous gift or add to your own handmade wardrobe.
With over 700 designs published, our sample closet is bursting at the seams! While it's hard to bid farewell to these lovely pieces, we're making room for new samples by offering a curated selection of sample garments and accessories for purchase.
Proceeds from our sample sale will help us to create new samples so that we're able to share our designs with you in a wider range of yarns, colors, styles, and sizes.
Our sample sale will be conducted in an auction format - the highest bidder for each item at the conclusion of the auction will receive that item.
You must have an account on BrooklynTweed.com and be logged in to participate. Winners will be notified via email.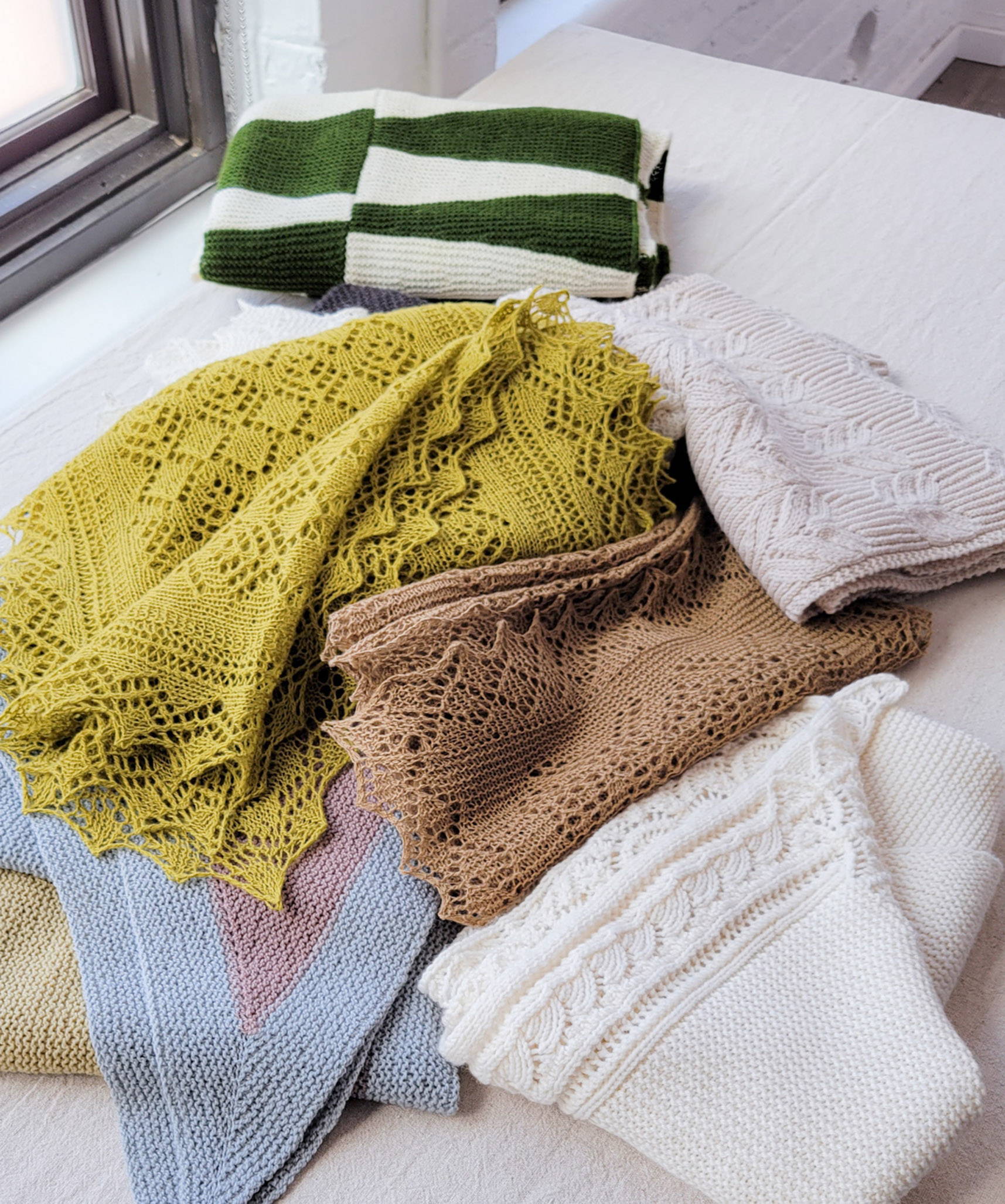 Before the auction:
During the auction:
To participate, there is a $2 joining fee per sample item

The fee is your auction entry ticket! Once paid, you may bid as many times as you wish on that sample.

For entry, click the "Join auction" button on the sample you want to bid on and proceed to payment through our regular checkout. Once paid, return to the sample product page. The button will now read "Place My Bid," and you are free to bid on that sample as you like.

To place a Single Bid:

Enter your bid amount in an increment of $5.00 and click "Place My Bid".

Click "Proceed" on the pop-up confirmation to place your bid.

Proxy Bidding:

Click "Place Automatic Bid"

Set the maximum amount that you wish to bid and click "Place Proxy Bid."

The auction system will place bids for you up to your maximum amount.

Popcorn Bidding:

If a winning bid is placed within the final minutes of the auction period, the system automatically adds time to the clock to give participants another chance to bid.

Need help?

If you placed a bid incorrectly and need to change the amount, email customer service at info@brooklyntweed.com.
After the auction:
Winners will be automatically notified via email.

You'll be invoiced to pay for the sample within 24 hours of the auction end time.

Upon receipt of the invoice, you will have 48 hours to submit payment for your item. Items not paid for within 48 hours may be transferred to the next highest bidder.

Email info@brooklyntweed.com if you have questions about making payment.
FREQUENTLY ASKED QUESTIONS
With proxy bidding, the auction system automatically bids on your behalf up to a maximum bid amount that you choose.
How does Proxy Bidding work?
An auction starts with $10 as the starting bid. You place a proxy bid of $50. The system will automatically start bidding from $10 in increments of $5 up to $50 on your behalf.
If another bidder comes to place a bid, they will see the current bid at $10. If they place a bid of $15, then they will be automatically outbid by you at $20, and so on, up to the maximum bid amount of $50 that you selected.
(Note that bids are placed in increments of $5.00)
Popcorn bidding is a way of giving bidders who are outbid in the final minutes of an auction an opportunity to rebid. This establishes a fair playing field by allowing the highest bidders several opportunities to rebid before the auction closes.
Popcorn bidding automatically extends the scheduled closing time by 1 minute after the last bid is made and allows for up to 5 opportunities to rebid. Each new bid resets the clock, giving the customer who was last outbid another minute to rebid. The highest bidder after 5 minutes or after 5 total popcorn bids have been placed wins the auction.
All sales final. No returns or exchanges. Free shipping for items shipped within the United States. $12 flat rate for items shipped internationally. Duties and taxes are the responsibility of the recipient.

Each item has been hand knitted in the USA by our expert sample knitters and is in good condition. Samples may show signs of gentle wear from use at photoshoots and for trunk shows at Brooklyn Tweed stockists.
Sign up for our newsletter to get updates on pattern releases, yarn launches, warehouse sales and more!