HOW TO KNIT:
Selecting Colors For Colorwork
The success of your colorwork projects starts before you even begin knitting. Use these fundamental color theory concepts to set yourself up for more eye-catching results in your finished fabric.
Shelter Snowbound, Flannel, and Embers

Shelter Old World, Hayloft, and Fossil
Arbor Tincture, Butte, Cobbler, and Seaglass

Arbor Sashiko, Heron, Treehouse, and Lovat

Arbor Nightfall, Loam, Cobbler, Firebrush, Rainier, Tincture, and Heron

Arbor Humpback, Fleet, Sashiko, Rainier, Thaw, Heron, and Driftwood
Shelter Cast Iron, Hayloft, Snowbound, and Plume

Shelter Bale, Snowbound, Yellowstone, Fossil, Sweatshirt, Almanac, and Snowbound

Peerie Fleet, Seaglass, Aurora, and Treehouse

Peerie Seaglass, Firebrush, Hammock, and Rainier
Peerie Nori and Hammock

Peerie Cassis and Calluna

Peerie Seaglass and Hammock
Loft Nest, Camper, and Woodsmoke

Loft Old World, Hayloft, and Fossil
Quarry Hematite and Geode

Quarry Lazulite and Gypsum
Loose skeins shown:
Shelter Bale, Fossil, Yellowstone, Sweatshirt, and Flannel

Loft Yellowstone, Bale, Nest, Hayloft, Fossil, Cast Iron, Iceberg, and Snowbound
---
FIRST COLORWORK COWL
BT by Brooklyn Tweed
The First Colorwork Cowl's motifs incorporate easy combinations of both one-color and simple two-color stranded rounds. Colors alternate frequently, meaning catching floats is not necessary! A digital companion pattern provides written instructions alongside 4- and 5-color variations. Worked in worsted-weight yarn, this pattern makes for great colorwork practice and swift gift knitting.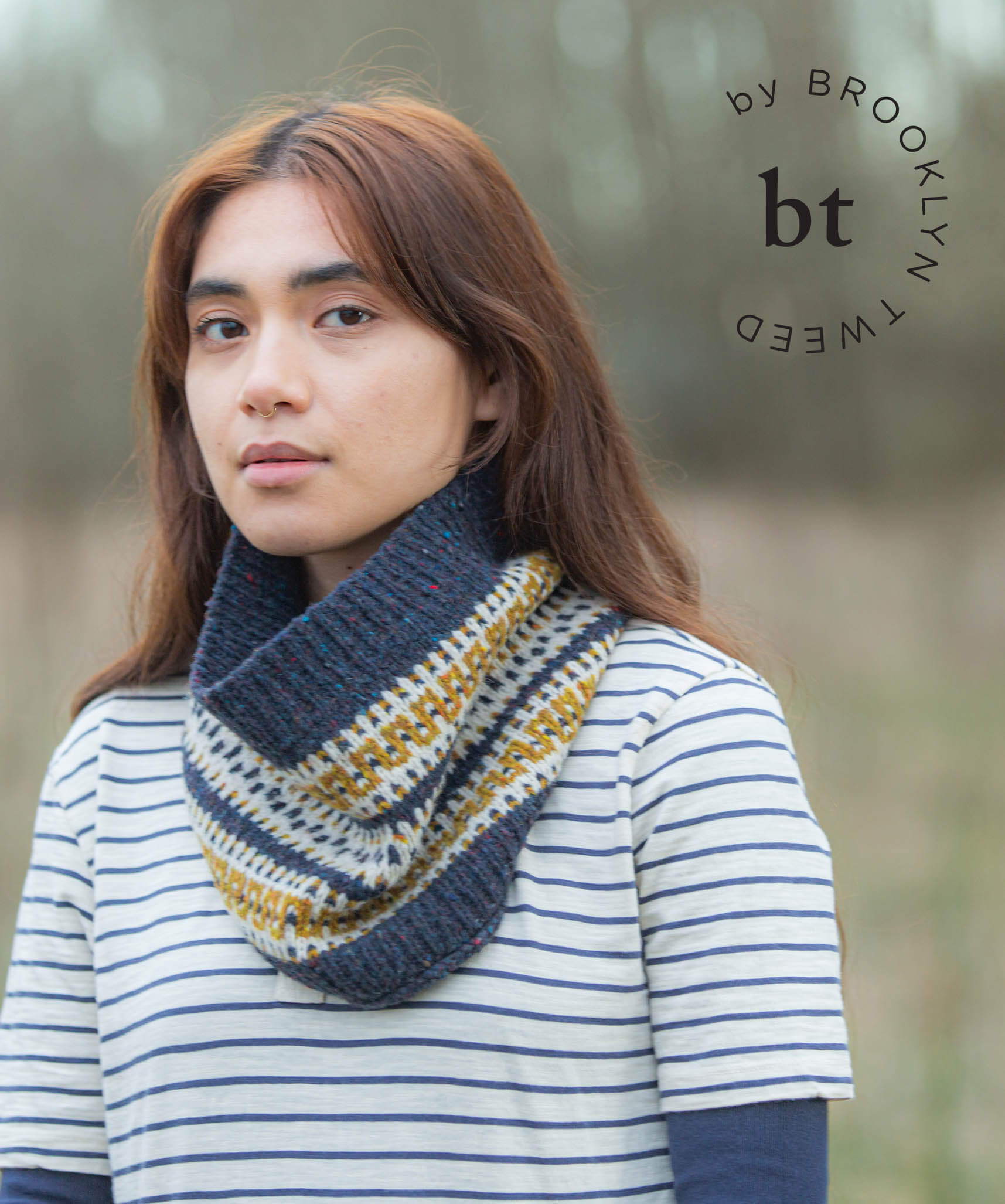 Share with us #BTintheWild