HOW TO KNIT:
Color Dominance 101
Paying attention to Color Dominance is important for achieving the best-looking results in your finished fabric.
When working stranded colorwork with two or more colors, one color will always be more prominent on the right side of your work (the Dominant Color) while the other recedes to the background (the Background Color). This effect is controlled by how the yarns are held in relationship to one another on the wrong side of the fabric as you work.
Many of our colorwork pattern charts include columns showing which colors should be held as the Dominant Color and the Background Color – in this video, we also show you how to determine which color should be dominant if your pattern does not have a color dominance indicator.
Regardless of how a knitter holds their yarns when working stranded colorwork, the Dominant Color should always float below the Background Color.
When Holding One Color in Each Hand:
The Dominant Color is held in the left hand and strands below the Background Color on the wrong side of the fabric.

The Background Color is held in the right hand and strands above the Dominant Color on the wrong side of the fabric.
When Holding Two Colors in One Hand:
There is more than one way to work stranded colorwork with two colors held in one hand (left or right) — the important thing to be aware of is that the Dominant Color consistently floats below the Background Color throughout a project regardless of your individual method for carrying the yarns.
---
Featured in this tutorial:
Pattern: Spearheads
Yarns:
Arbor – Seaglass and Spruce

Arbor – Sashiko and Butte

Quarry – Lazulite and Gypsum
---
SPEARHEADS
by Jared Flood
A bold Icelandic-style yoke printed with a spirograph of interlacing chevrons is striking on anybody. Spearheads knits up lightning fast in two high-contrast colors of Quarry to fend off the winter chill. Reversing the dark and light colors should be equally successful. Choose single or double rib for the hem, cuffs and neckband according to your liking.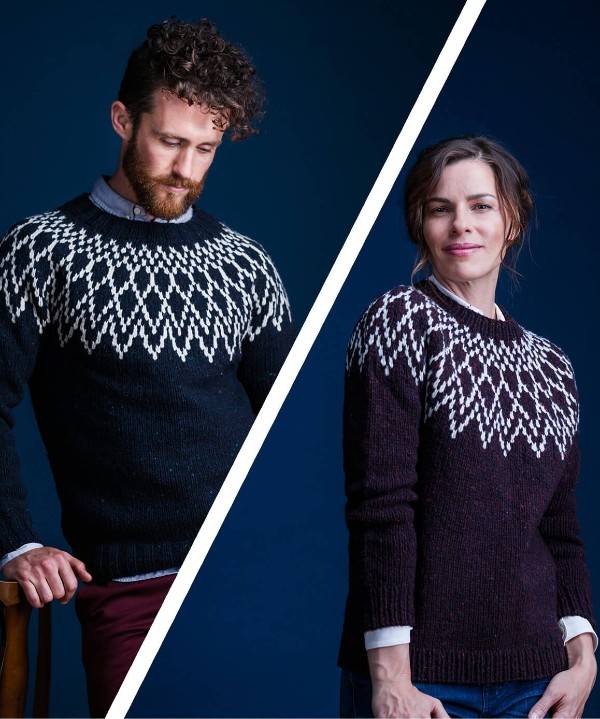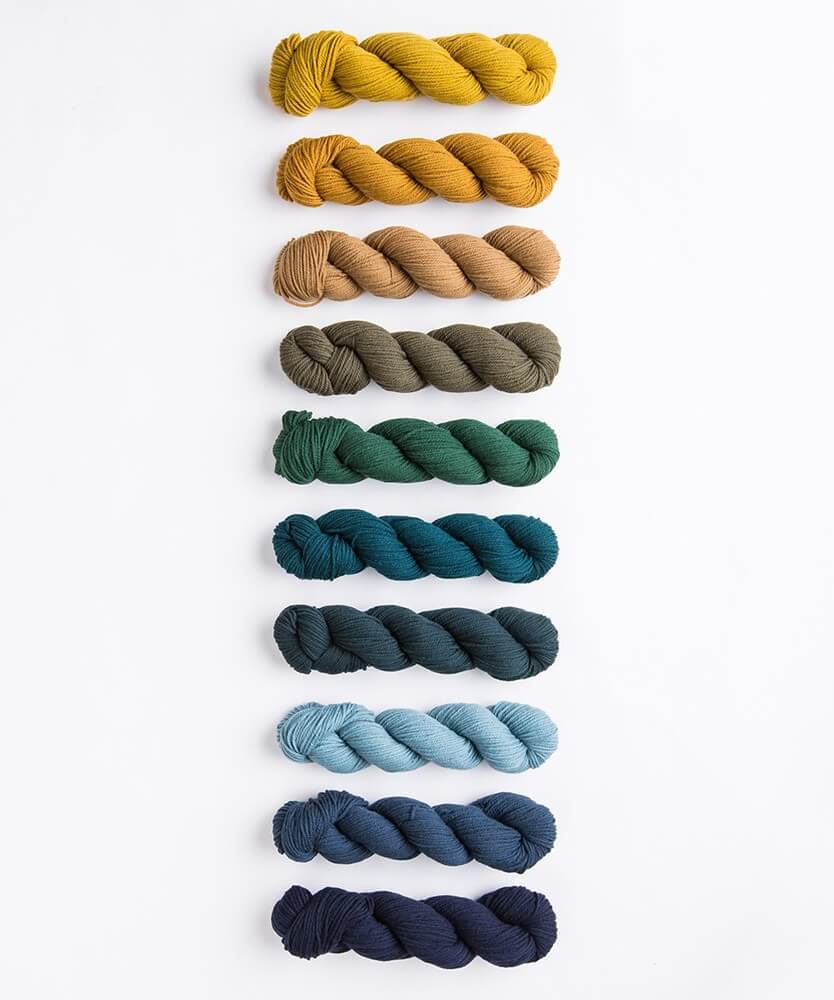 Arbor is a classic DK weight yarn with timeless versatility. American Targhee wool is worsted spun into a round and springy 3-ply yarn, perfect for crisp stitch definition and wear-everywhere knits.  
---
Quarry is inspired by roving-style "unspun" yarns and offered in pillowy 100-gram skeins. Three strands of lofty, woolen-spun Targhee-Columbia fleece are gently spun together into a plump yarn that looks like a single ply and has greater tensile strength and stitch definition than a true unspun yarn.
Share with us #BTintheWild