APART TOGETHER: COMMUNITY
Pay What You Choose - Support How You Can
SALE HAS ENDED
Thank you for supporting!
Last year, Brooklyn Tweed introduced Apart Together: Community and with your help donated $27,653 to ACCESS Wildfire Relief. This year we turn our efforts to a vulnerable group of kiddos and teens seeking their own supportive community.
Through November 29th, we invite you to use a promo code to PAY WHAT YOU CHOOSE for your yarn order. Part of your purchase will be donated to the Sexual & Gender Minority Youth Resource Center (SMYRC) whose monthly knit nights and community events provide safe harbor and connection for Portland's LGBTQ+ youth.
Your donation will be matched by Brooklyn Tweed for double the contribution!
---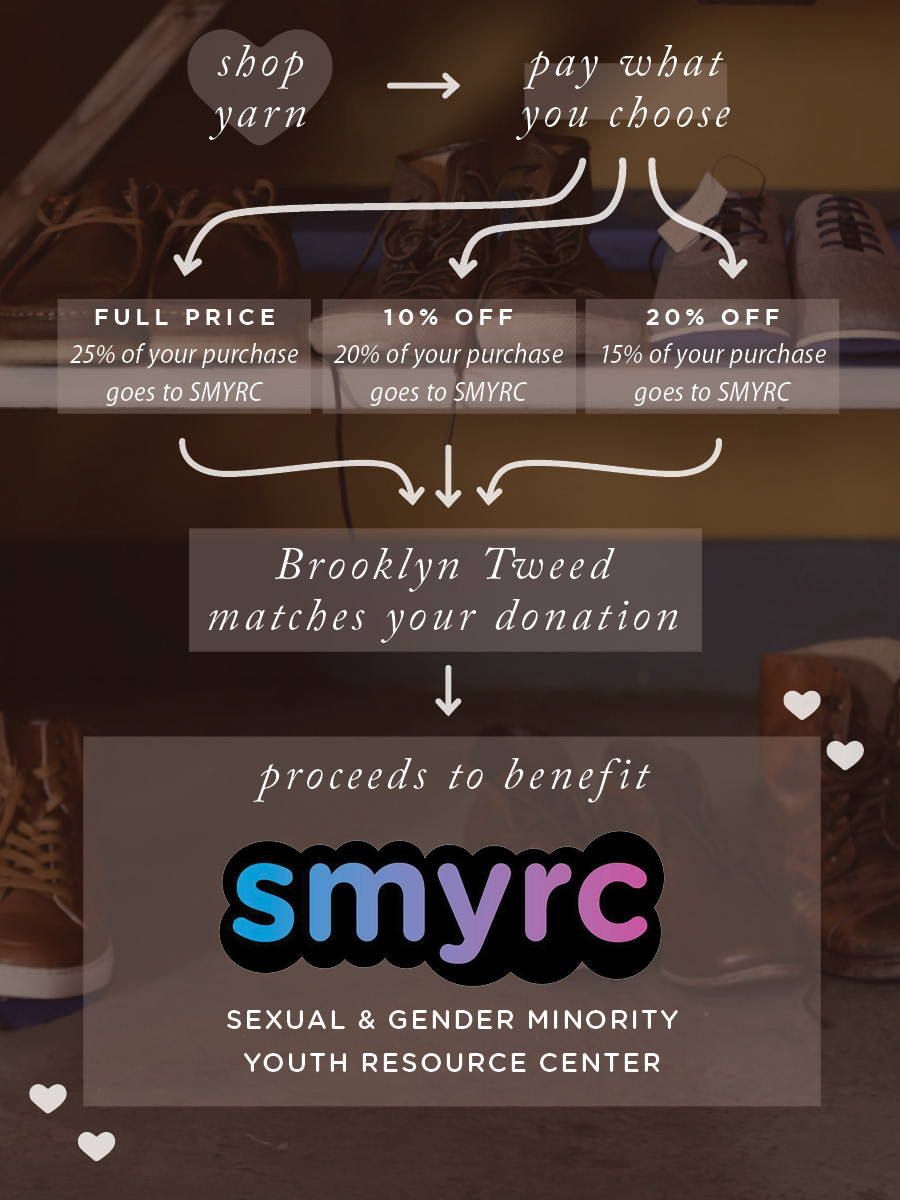 Sale has ended
Thank you for supporting!
---
Sexual & Gender Minority Youth Resource Center
Started by a coalition of queer and trans youth in 1998, the Portland-based organization SMYRC provides a safe and supportive space for sexual and gender minority youth with a calendar of enriching events including open mic, art and knit nights while also providing crucial services like gender-affirming clothing, hygiene supplies and counseling referrals.
We were privileged to visit the hardworking team at their downtown headquarters and learn more about this important work. And for Brooklyn Tweed founder Jared Flood and his husband (BT's Operations Manager) Luigi Boccia, this partnership with SMYRC strikes a personal chord and has them reflecting on their own journeys of self-discovery and searching for acceptance as their authentic selves.
---
Add something soft to your stash through Apart Together: Community and help Portland's queer, trans, and gender-nonconforming youth build the friendships and high self-esteem they need to pursue bright futures.
Choose your promo code above and save on your favorite colorways of newly restocked yarns!